It has been exactly 39 days today, February 24, 2017 since the Cameroonian government shut down the Internet in the two Anglophone regions of the country amidst protests.
On January 17, 2017, the national telecommunication and internet service provider, CAMTEL, shut down internet service in North-west and South-west regions of Cameroon. On the same day, government banned activities of a civil society group which had been set up by leaders of the two regions to articulate the interests of the people to government. Police also arrested key leaders of the group, Dr. Nkongho Felix Agbor-Balla and Dr. Fontem A. Neba.
The Cameroonian government has repeatedly failed to heed several calls from local and international human rights groups including the African Freedom of Expression Exchange (AFEX) to unblock the internet and  release those arrested.
The United Nations (UN), Special Rapporteur on freedom of expression, David Kaye, on February 10, called on the government of Cameroon to restore internet services to the two affected regions.
"I am particularly concerned at the tightening of the space for free speech at a time where its promotion and protection should be of the utmost importance," he said. Kaye further indicated that "a network shutdown of this scale violates international law – it not only suppresses public debate, but also deprives Cameroonians of access to essential services and basic resources."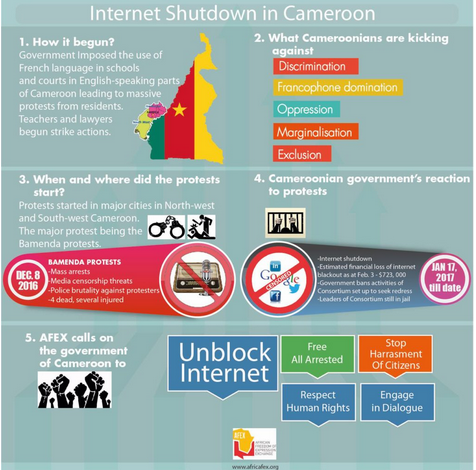 Thirty-nine days on, the Internet is still disconnected and the two arrested leaders remain in custody. Dr. Agbor-Balla and Dr. Fontem have been charged by the Yaoundé military court for alleged acts of terrorism, inciting civil war, inciting secession, and spreading false information. They have pleaded not guilty to the charges and the case has been adjourned to March 23, 2017. The two could face a death penalty if found guilty under Cameroon's Anti-Terrorism law.
Since November 2016, there have been ongoing protests and unrest in the two Anglophone regions of Cameroon following the decision of government to impose the use French language in schools and courts based in the regions.
In addition to the reported incidents of internet shutdown and arbitrary arrests in Anglophone Cameroon, police on December 8, 2016, reportedly fired live bullets and teargas at protesters which resulted in the deaths of four persons, leaving several others injured.
AFEX once again, joins the International Community to appeal to President Paul Biya of Cameroon to intervene in the matter to ensure that Internet connectivity is restored to the people of North-west and South-west Cameroon. We also call on the President to use his good office to order the release of all those who have been arrested as they were only exercising their fundamental right to freedom of expression which is guaranteed in the Preamble of Cameroon's Constitution.